Our new 85,000 ft. facility is equipped with state-of-the-art equipment – from our fully air conditioned manufacturing area and warehouse, to control temperature sensitivity and expansion tolerances, to automated gauge calibration – we have custom-designed the facility to provide you with best-in-class precision products.
We encourage you to visit our new facility and experience the efficient operation of the cleanest, safest machine shop in Texas.
DEBURR ROOM
Our negative pressure deburr room houses six vacuum units which remove deburr particulates from the air. The units are self cleaning, with a collection area for removal of debris. A clean room helps us to deliver a better product and provide our employees with a healthier work environment.
---
9 MACHINING CENTERS
We feature nine machining centers, including a newly-installed Okuma MB-8000H Horizontal Machining Center, which provides highly-accurate, high-speed machining for parts up to 2,000 lbs. It's ideal for high-production jobs: flexible, strong, accurate and productive.
We've also installed an Okuma 852V CNC Vertical Machining Center – the ultimate in large machining centers with high rigidity, heavy cutting ability and high operability. The strong base column construction has optimally-placed ribs to counter chatter and twisting during heavy-duty cutting.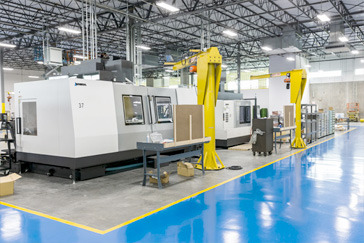 22 CNC LATHES
One of the 22 CNC lathes we operate is the new Okuma LB45 III CNC Turning Lathe, which accommodates large materials with precision. Its unmatched speed, accuracy and power, plus its long bed capacity, deliver high productivity for fast, heavy-duty turning.